Cinderella Shop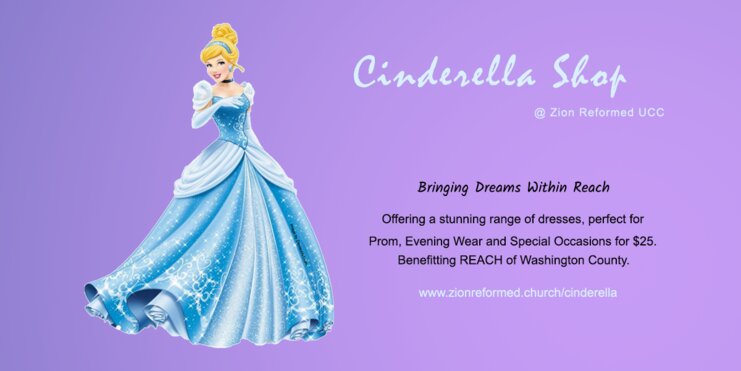 The Cinderella Shop at Zion Reformed UCC has been providing beautiful gowns for proms
and other formal events at a fraction of the cost helping bring your dreams within reach.
This is is the 19th year that the Cinderella Shop at Zion Reformed UCC will be selling gently used prom gowns, making it easier to look your best at a fraction of the cost so that you can enjoy yourself at your event without sacrificing on food or other necessities.
Open each Saturday in April 2022 from 10 am to 12 noon. We have an extensive collection of beautiful gowns. The gowns are $25 each, paid in cash or with a check made out to REACH of Washington County. All proceeds go directly to REACH of Washington County.
The church is located at 201 N. Potomac St., Hagerstown, MD. Access to and parking for the Cinderella Shop are in the rear of the church via the Suter Avenue alleyway off Church Street and across the street from the Farmer's Market. (See map below)
Stay up to date at the Cinderella Shop Facebook Event Page.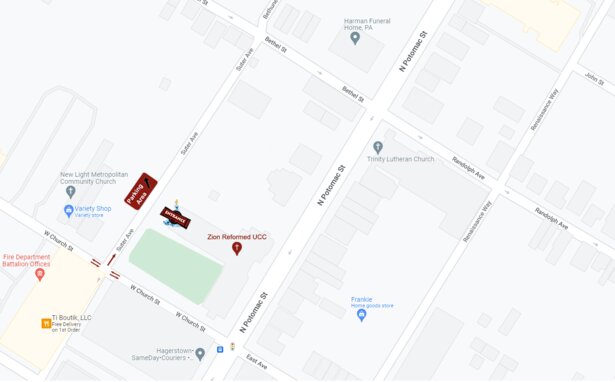 For more information, contact the Church Office at 301.739.7244 or zionrucc@myactv.net.