Winter Congregational Meeting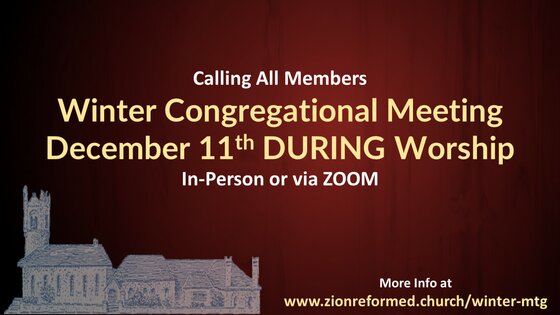 Our Winter Congregational Meeting will be DURING worship on December 11th and offered in a hybrid format with in-person and ZOOM attendance options. Virtual participants may watch the service as usual at www.zionreformed.church/worshiplive and during the congregational meeting segment join in by ZOOM to be able to speak and be heard.
We will be voting on 2023 Consistory Nominations and Renewals, and the proposed 2023 budget. Please mark your calendars and plan to attend.
Upon completion of the congregational meeting, we invite you to join us for Cookies, Cards, and Carols. Bring a plate of your favorite cookies to share while we sing carols and sign cards.
Consistory 2023 Nominations:
The following nominations were received to fill vacancies on the Consistory:
Megan Shroyer (Deacon)
Matt McDonald (Deacon)
Jean Simmons (Deacon)
The following individual(s) have completed their first term and are up for renewal:
The following members will continue their currently elected terms with no vote required:
Elders - Kim Ridenour, Michael Jones, Carroll Sager, Tina Shafer, Susie Clutz.
Deacons – Rich Owens and Calvin Livingston.
Proposed 2023 Budget:
View the 2023 proposed budget online or pick a hardcopy up at the church.
To Attend by ZOOM Conference:
Choose Your Connection Method:
Join by Web
Join by One tap mobile: +13017158592,,3017397244#
Join by Phone Call (audio only): +1 301 715 8592
Join by Skype for Business
(Meeting ID: 301 739 7244 and Passcode: Zion)