New here?
We know visiting a new church can be intimidating
We want you to feel right at home. Here are the answers to some questions you may have before attending Zion for the first time:
WHAT SHOULD I WEAR?
There is no dress code for attending services at Zion. You are free to come exactly as you are, so wear whatever you are most comfortable in.
WHAT ARE THE SERVICES LIKE?
We utilize a traditional Worship Service style, incorporating Contemporary components. Our historic Möller organ is featured in our Services. Additionally, many talented musicians bless us with their talents. Services typically last one hour and includes a Children's time. Communion is offered during the first Sunday of each month. Everyone is welcome to participate in Communion.
WHAT TIME ARE THE SERVICES?
Sunday morning worship is at 11:00 am September through May. In the summer (beginning with the Sunday before Memorial Day and ending with the Sunday before Labor Day) the Sunday morning worship is held at 10:00 am. Sunday School for all ages is at 9:45 am on Sunday mornings (no Sunday School in the summer). Special Wednesday night services are held during Lent: Potluck Supper at 6:00 pm and a Lenten prayer Service at 6:45 pm. Special services are also held for Ash Wednesday, Maunday Thursday, Easter Sunrise and Christmas Eve.
WHAT ABOUT KIDS?
We host Youth Sunday School from 945:am to 11am every Sunday. Children are also welcome to join us for Worship Service in the Sanctuary at 11am. Typically, about halfway through our Worship Service, our Pastor will invite all children to the front for a Children's Moment, followed by playtime in the classrooms.
WHERE CAN I PARK?
Zion has two parking lots. One is located behind the adjoining church Parsonage building (off of North Potomac Street). The entrance is located between the Parsonage and red brick neighboring building (which is the second driveway on the right after Bethel Street). The second church parking lot is located in the alley behind the church/parking is on the left side of the alley. In addition to these these two lots, there is also curbside parking on North Potomac Street and the Potomac Street Parking Deck locate 1-1/2 blocks South of Zion Church. Below is a map indicating where the you can park, see the magenta stars.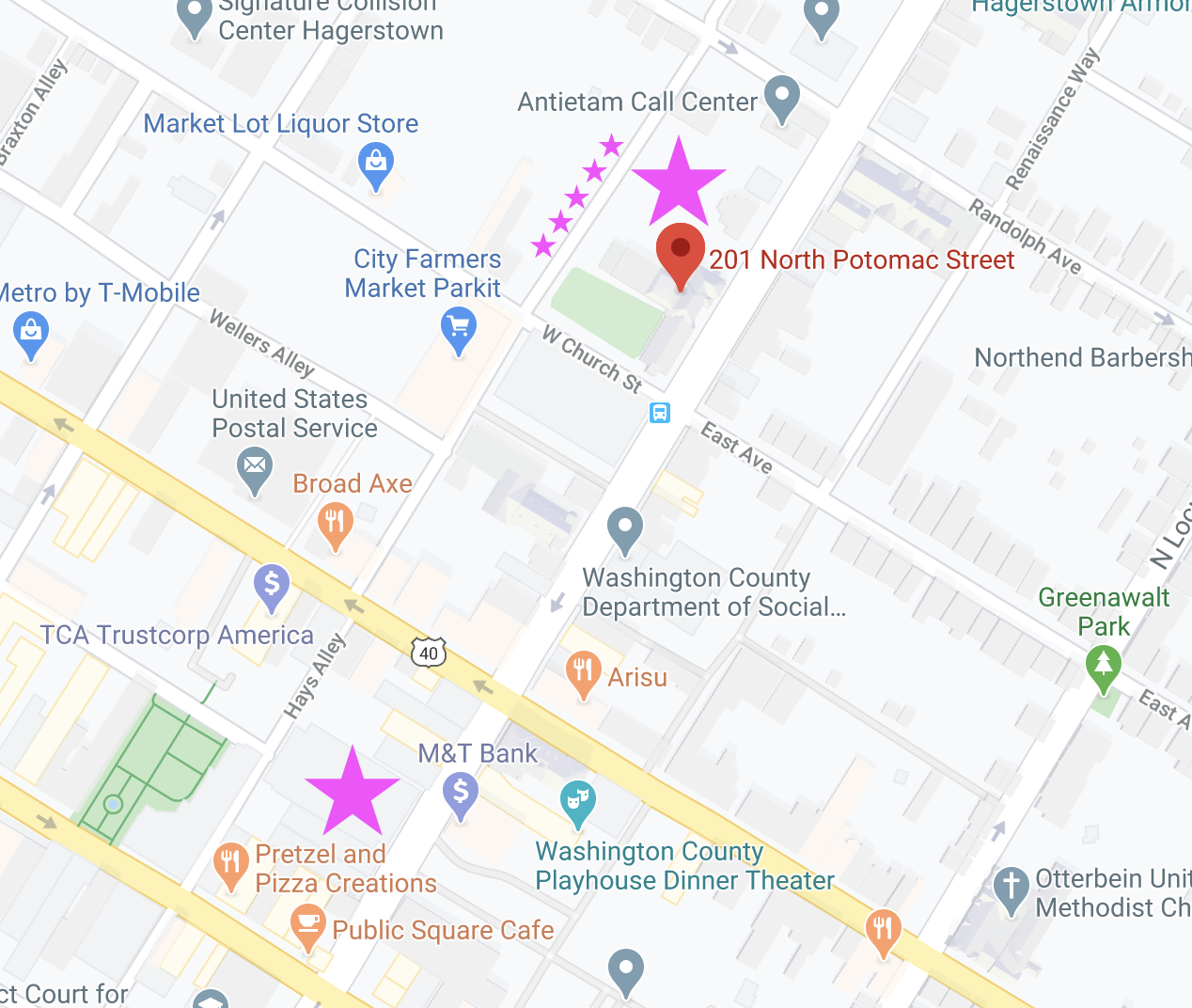 IS THE BUILDING HANDICAPPED ACCESSIBLE?
Yes. On the main level, enter through the Church Office door at the North end of the building. On the basement level, there is a ramp at the alley entrance which leads to the Fellowship Hall and the soup kitchen. Handicapped parking spaces can be found in the North Potomac Street parking lot.
WHAT CAN I EXPECT UPON ARRIVAL?
You may enter through either the front, center, or Chapel doors near the church office. Upon arrival, feel free to either have a seat in the Sanctuary for reflection time or to join us in the Chapel prior to Service to get to know our members--hot coffee is provided.
WHO CAN PARTICIPATE IN COMMUNION AT ZION?
Communion is served on the first Sunday of each month. All are welcome to Zion Church's communion table. There are options for wine or grape juice and our communion bread is always gluten-free.